Norditropin hgh pen injection 100% original wholesale price
Norditropin hgh pen injection 100% original wholesale price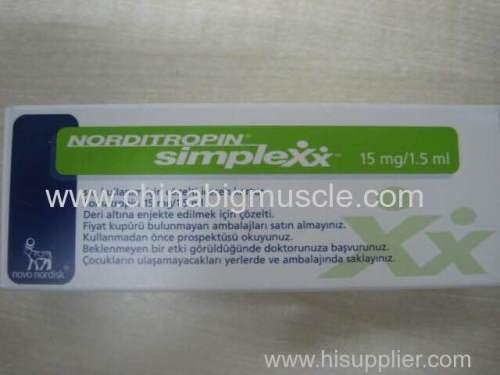 About Norditropin 15iu,30iu, 45iu
Norditropin Nordilet is a disposable, premixed, prefilled pen that makes taking growth hormone simple.
Unlike other growth hormone delivery pens. This means you don't have to load the growth hormone with cartridges.
Norditropin Nordilet offers multiple doses which means most patients can use the pen several times before the medicine runs out.
Norditropin Nordilet is available in 10 mg/30 I.U.s delivery pen.
Norditropin Nordilet uses NovoFine needles which have an ultra-sharp, low-angle point designed to help increase injection comfort. They are electropolished for smoothness and coated with silicone to reduce friction. Less friction may also mean less pain.
Norditropin Nordilet 10 mg delivery pens are the only prefilled, multi-dose, disposable growth hormone pens that can either be stored outside of the refrigerator (at up to 77° F) for use within 3 weeks, or in the refrigerator (between 36°F and 46°F) for use within 4 weeks.

How to order:
1. Delivery upon receipt of payment within 12hours
2. Tracking number of parcel will be offered next day
3. Total delivery time wiill be around 5-12days
Competitive Advantage:
Delivery Time: 5-712 days after payment
Top quality best effect
Best service
Payment info: western union, moneygram, bank transfer
We supply top quality hgh products, we also have steroids tablets, raw powder, we do honest business, and for those who are truly interested, we provide good service.
For any questions, please feel free to contact us
Jintropin 10iu*10vials=100iu
Kigtropin 10iu*10vials=100iu
Riptropin 10iu*10vials=100iu
Hygetropin 10iu*10vials=100iu
Bluetop 10iu*10vials=100iu
Greentop 10iu*10vials=100iu
Yellowtop 10iu*10vials=100iu
Hygetropin 8iu*25vials=200iu
Ansomone10iu*10vials=100iu